Fritters Day celebrates our culinary obsession with the deep-fried delicacy known as the fritter.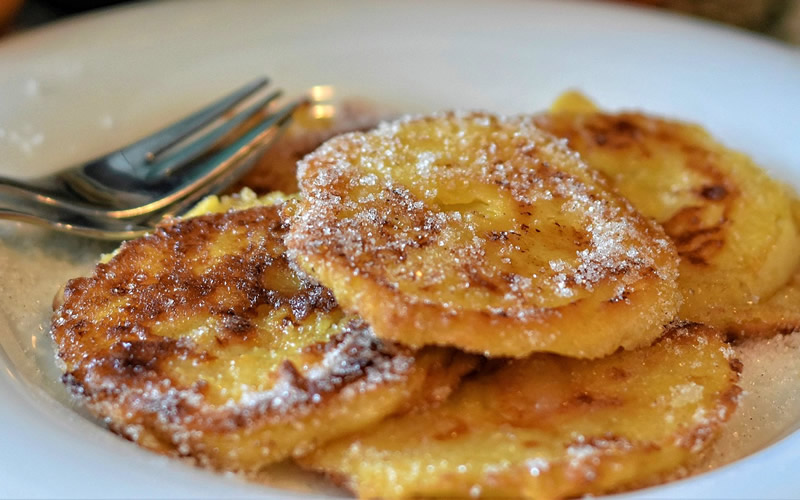 What Is A Fritter?
Fritters come in all shapes and sizes but there are only three distinct forms of fritter.
The first kind of fritter is a sweet cake made with fruits, sugar, or honey. In France, sweet fritters are called beignets, they are made with chou pastry and are served with powdered sugar. A Greek variation is called loukoumades, or Greek donuts. These tasty little fritters are made with honey and shaped like golf balls. They are typically served with hot honey, cinnamon, and walnuts.
The second kind of fritter is more often a savory dish. For this fritter, pieces of meat, seafood, or vegetables are coated in batter and deep fried, such as the Indian pakora. In Japan, savoury fritters are called, tempura. They are made using a light tempura batter and typically include vegetables, herbs, and seafood (such as shrimps).
The third variety of fritter is most commonly found in the United States. This fritter is created by combining small chunks of vegetables or meat with a batter mixture and then deep frying the mix. Sweetcorn fritters are particularly popular version of the mixed fritter.
The fritter is a truly international food and variations can be found all over the world. In Iran, fritters are called kuku, in China they typically contain pork, in Indonesia you might find fritters containing tempeh, while in New Zealand they are often made with fish.
How To Celebrate Fritters Day?
There is only one way to celebrate Fritters Day and that's by eating lots and lots of fritters! So get that frying pan out and start mixing your batter. Its time to get creative in the kitchen and whip up some delicious fritters for you and your friends. Have fun!
National Fritters Day Images